CKC/APR/ACA MASTER MARTIAL ARTIST OF PROF.
Martial At 5 Mos Old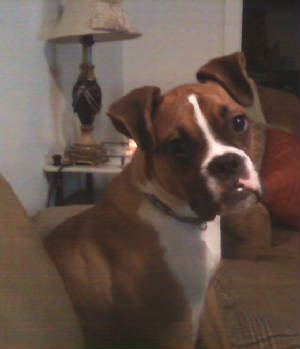 After nearly a year's wait- it was well worth it! Martial is everything you would look for in an American Boxer! Martial, a semi-flashy fawn, was flown in from South Dakota and comes from amazing champion bloodlines on both dam's and sire's sides! Names such as CH Victory Levi Riding High and CH Aeronay's Desperado appear as recently as within a 4 generation pedigree. Further in his pedigree are even more phenomenal show titles including many INT/AM/CAN Champions. He comes from heavily health tested lines. Martial is the complete package and will make an amazing new stud here at Professional Boxers! He has had the "strut" since only his first few weeks of life- literally prancing around as if he belongs in the show ring. His markings are gorgeous and quite symmetrical, conformation spot on with a great head, sharp stop and nice square short muzzle. His brains and temperament are all that we've hoped for and more! We are so thrilled about the prospect of puppies from this little ham of a man and all the ways that he will compliment our ladies wonderfully.
CKC Black Sands On Kihei Beach Of Prof.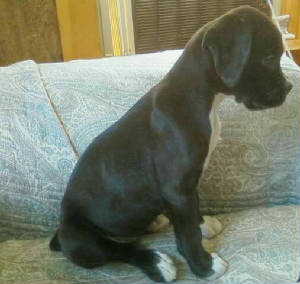 We've been toying with the idea of adding a sealed brindle (black) Boxer to our little herd for years now. Finally- we've found the perfect little gem that should add greatness to our breeding program! Kihei (pronounced Key-Hay) is named after a stunning Hawaiian black sand beach and literally means shawl or cloak. With a passion for the tropics- this name couldn't be more fitting for this gorgeous little lump of coal! This girl has some sizable dogs in her immediate lineage which will be helpful in our program. Dad is an estimated 80lbs, and dad's sire is about 95lbs. Kihei is a classic black Boxer (correct terminology is sealed brindle- but these dogs appear black in color.) This girl, while very young, looks quite promising already! She has a nice wide, snub muzzle, large nicely shaped head, perfectly arched neck, beautiful topline, wonderful markings, and an inquisitive, curious personality. We are so excited to see how she continues to grow and develop!
CKC PROF. VICTORY SHINES VAUNT VEDA- FLASHY FAWN
Veda pictured at 8 months by the campfire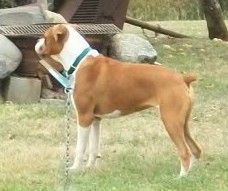 Naturally stacking, she's showing off her lovely conformation and flashy great looks!
Veda is our first homebred Boxer keeper! She's an exceptional Flashy Fawn! Veda was the most sought after in her litter for her gorgeous "fierce" expression, precious outgoing personality and perfectly flashy markings. We've yet to see flash as nicely placed as Veda's. She has 4 beautiful white socks, an enormous white chest, completely full white collar and beautiful white mask/blaze. Veda's structure is absolutely breathtaking at 2 yrs old and she wows us more and more with each day's development. Her head and muzzle are impressive, she has some very attractive American traits yet has the nice, heavier boning of both parents. Veda's personality is more mature and serious, yet extremely outgoing and social, like Maggie's. Veda, while resembling her sire, definitely has her mom's reliable family guardian personality. Veda loves water and we catch her laying in the doggy pool all the time! We are anxious to see how both Maiden and Veda continue to develop.
CKC HAWAII'S HOT SUN ON KONA BEACH- WHITE
Kona naturally stacking during a camping trip!
Finally! We tried forever to get this pic- she's not too mature & wiggles way more than she stacks!!
This recent photo is Kona at camp. She is almost 2
.....and continues to wow and amaze us each day from her great personality to her dazzling looks!
Kona, named after a Hawaiian white sand beach, is our magnificent little opal! At 3 years old, she's developed into everything that we could have hoped for! She's pure white with an absolutely gorgeous face/muzzle, wonderfully shaped head with perfect ears and nice conformation. She is an outgoing, fun loving, adorable gem and she loves everyone. Kona is so much fun and always keeps everyone laughing. She's truly everything we could've hoped for! She's obedient, loving, intelligent and driven. Sadly, her drive leads to mischief more often than not. Kona is such a problem solver, she can escape any enclosure. Kona would do best on a runner or a hitch out set up while outside. She can't be trusted in the kennel due to her craftiness. If you are a busy or active person/family and can provide Kona with the stimulus she needs to stay happy and content, please email us. We are asking $650 on spay contract. Kona is current on all vaccinations and well checks.
CKC MAY DAY'S MISS MAGGIE MAY- CLASSIC FAWN
May Day's Miss Maggie May
She doesn't take her guarding responsibility lightly!
Retired! CKC May Day's Miss Maggie May is our gorgeous fawn Boxer. To Maggie we owe it all. Gifted to us in 2007 when relatives were unable to keep her, she was the foundation of our breeding program and the reason we decided to GO BOXER. In addition to her great looks, she has a wonderful mellow, laid back, very friendly, outgoing and tolerant personality. Very few dogs are as intelligent as she is. Maggie is about 65lbs on a well-built, nicely conformed frame. She's got a gorgeous expression and wonderful head with nice body structure, great feet and overall conformation. She is wonderfully tempered around everyone (yes, even at the vet!) She is also a great guard, however, always making us aware if there is an intruder around. She is our matriarch female, and has always been perfectly healthy. We are very privileged to be owned by this darling beauty.