This is DBR Princess Atta Girl of Prof. Atta is named after Princess Atta on A Bug's Life! We decided to keep miss Atta for several reasons. She has the sweetest little personality, and is a very fast learner! She also has some pretty unique ticking on her white stocking, and a lovely dark brindle base color. She has a beautiful face, small nose, gorgeous muzzle, big widely spaced eyes, pretty forehead, and wonderful structure. Hopefully, Atta will be used in our future Bugg program!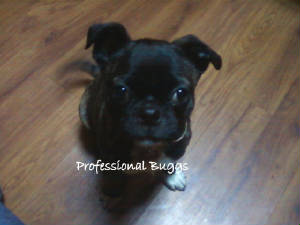 This gem face is certainly the pick of the litter! She's not ours, but thankfully she is owned by my sister-in-law. We get to see Eva almost every day. She is absolutely perfect in every way- high forehead, giant eyes, tiny nose, super short muzzle, beautiful brindle coat, a full length tail carried over the back, nicely conformed- and a personality that the entire litter possesses. These beauties are all fun loving, playful, excitable sweethearts. Eva will be bred to Wally, my sister's-in-law Boston Terrier. We hope to eventually obtain one of their puppies to use in our Bugg program as well. We are so thankful that Eva lives just around the corner! She and Wally come to visit Aunt Betty and all their cousins quite often :-)
Our Boston Terrier
CKC Beacon Street's Mob Boss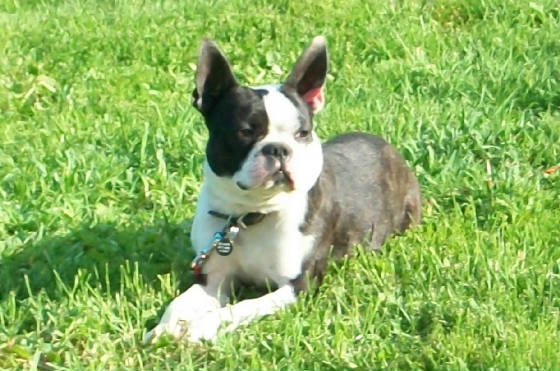 Our handsome 20lb Boston Terrier Stud
Meet Beacon! CKC Beacon Street's Mob Boss is our endearing, charming young Boston Terrier stud! This handsome man encompasses all of what a Boston Terrier should represent; handsome conformation, correct standard size (20lbs), gorgeous markings, perfect temperament and health! Beacon is breathtaking from his gorgeous erect ears to his perfect little corkscrew tail. Our vet couldn't believe how much of an ideal Boston Terrier he is. He is offered at stud to approved bitches only; of any breed. We are certainly not opposed to designer creations as long as health, temperament and beauty are always of utmost concern. Stud Fee: $500 due at time of breeding. We may consider pick of litter as a stud fee, depending upon female's breed/type.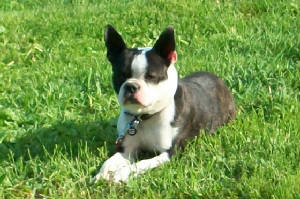 Please note Beacon is our only Boston Terrier and therefore we do not have Boston litters on site. We may, however, occassionally have pick of litter stud-fee puppies available for sale here. Please
email us
if you are interested in using Beacon as a sire to your next litter!
About Buggs:
Buggs are a hybrid designer breed created using a Boston Terrier and a Pug. This is our very favorite hybrid! We've been fortunate to meet lots of Buggs, and they are consistently sweet, outgoing, bouncy little bundles! If you are a Boxer lover- you'll be crazy for Buggs! They encompass so much of the Boxer traits in a small package. Hybrids are rising in popularity- not only due to their new creative looks, but because this broadening of the gene pool can create a healthier, stronger dog. Our Bugg puppies are F1Bs. This means that their mom is a Bugg (1/2 Boston Terrier and 1/2 Pug.) Their father is a purebred Boston Terrier. We have written a detailed breed profile for the Bugg. Please let us know if you would like to use our profile for reproduction purposes.
Name of Breed: Bugg
Country of Origin: USA
Size: The ideal Bugg usually ranges from about 15-25lbs, males being slightly larger than females at maturity. They are usually around 12-17'' in height at the withers upon adulthood.
Coat: The Bugg has a very smooth, shorthaired coat; a perfect combination of the slightly denser Pug coat and very sleek Boston Terrier coat. They tend to shed slightly more than a Boston Terrier yet less than a Pug. Buggs are typically seen in various shades of brindle or fawn with or without white markings. However, more recently the less typical mutations as seen in Boston Terriers are occurring in the Bugg breed such a chocolate, red, lilac, blue, etc.
Character: A wonderful breed for any upbeat personality! These lively, fun, energetic, social little dogs are a big dog in a small package. There is never a dull moment with a Bugg in the house! Buggs are generally very happy, spirited little dogs that rarely take life too seriously. This hybrid brings such a zest for life, self confidence and positive outlook that isn't common to many of the smaller breeds. This little dog is known to taking a liking to the entire family!
Temperament: Buggs are known for being very social, friendly, outgoing, brave and confident souls. However, they great watchdogs too! They are quick to alert you when there is a stranger at the door. Properly socialized Buggs will greet the newcomer with a shower of kisses and excitability once they are introduced into the home. Buggs are sometimes likely to scuffle or play roughly with other dogs so it is best to supervise play.
Care: A low maintenance breed, Buggs require very little grooming. A weekly brushing with rubber comb or grooming mitt is more than enough to take care of loose hair and dirt. They are generally very clean dogs, but may be bathed as needed- usually not more often than once every 1- 3 months unless they happen to get particularly dirty in some excursion! Buggs do well with a daily walk or playtime of 30-60 minutes including running, hoping and playing with other Buggs. Buggs are brachycephalic (short-nosed) and can't tolerate extensive exercise for long periods or extreme heat. Take caution in warm weather and make sure clean fresh water is readily available.
Training: Buggs are a smart yet slightly stubborn breed. Many attribute their stubborn traits to the Pug heritage. They tolerate training well and are fast learners. It's key to start young with Buggs, as they can become headstrong if allowed to get by with ill behavior. Puppies must learn restraint so common practices such as bathing, nail trimming, medicating, etc aren't an all-day chore when they are strong grown little adults! One helpful method is getting your Bugg puppy used to lying on her back while you cradle her in your arms. Don't set her down until she calms and stops trying to right herself. Calmly and firmly say "No" while restraining her. When she obeys, praise, praise and praise! This will be very helpful in gaining her confidence in you as she approaches adulthood. As with any breed, consistency is key. Housebreaking can take a bit longer as with most small breeds. They can get quite easily distracted being such a silly, fun loving breed.
Activity: Buggs are an active breed- but don't expect them to go non-stop! They can tire easily and enjoy sacking out on the couch with their family as much as they enjoy playing with toys, people and other dogs. This breed doesn't require extensive exercise, but does enjoy daily playtime! Buggs are sometimes called permanent puppies as they never quite mature, and are always as zesty and playful throughout their entire lives as they were at 8 weeks.

## Rating (between 1 and 7) ##

Size (Rating of 2, 4, 5 or 7): 4
Energy Level: 6
Exercise: 4
Good with other Dogs: 4
Good with children: 7
Good with strangers: 5
Trainability: 5
Watchdog ability: 6
Protection ability: 3
Grooming requirements: 3
Cold tolerance: 2
Heat tolerance: 2